Tankless Water Heater Repair, Maintenance & Installation Services in Beavercreek, OH
Tankless water heaters — also known as on-demand, instantaneous, continuous flow, inline, flash, or instant-on water heaters — are water heaters that heat water instantly while it flows through the unit, which takes up very little space. Aside from the little water in the heat exchanger coil, tankless water heaters don't store any heated water internally. Because they save homeowners hundreds of dollars of year and don't waste energy, which makes them environmentally friendly, tankless water heaters are becoming more and more popular in homes and commercial buildings today. Our on-demand, continuous flow water heaters work by heating water as it passes over the heating coils when the tap is turned on and you need warm water. They deliver a constant supply of hot water. Although some of the models today produce slightly lower flow rates, inline water heaters are still excellent options for customers, especially if there isn't a need to supply a lot of different areas in the home or business building with hot water.

Friendly Technicians
The men and women who wear our badge are friendly, respectful, and knowledgable.

24/7 Emergency Services
We're available around the clock, on weekends and holidays, with live phone support available after hours.

We're Licensed & Insured
We are licensed, insured, bonded, and qualified to work on gas lines and other dangerous equipment.
How Tankless Water Heaters Work
Tankless water heaters use an electric element, heating coil or gas burner to heat the water as it goes into the unit. This delivers a non-stop supply of heated water for instant comfort and convenience. Unlike conventional water heaters, heated water is not stored inside a storage tank and kept warm, which wastes energy. For this reason and many others, tankless water heaters are popular. Conventional hot water systems have higher operating costs. 
While these on-demand water heaters or inline hot water systems cost more, they pay for themselves over time. In addition to saving money on energy, they are better for the environment, they require less space and they have longer life expectancies. 
In any case, installing a water heating system is something that should always done by a professional plumber, especially when it comes to higher end tankless water heating equipment. Our highly trained hot water experts here at Beavercreek Plumbing & Drain are able to ensure that not only you get the best price on a hot water unit, but that your water heater is installed correctly so that it gives you all the hot water you need for years to come without any issues.
Benefits of Tankless Water Heaters
If you're curious whether a tankless water heater, or on-demand water heater, is right for your home or business, you are in the right place. Beavercreek Plumbing & Drain can answer all your tankless water heater questions. We have you covered. Our hot water experts say there are many wonderful advantages to installing a tankless water heating system that offers continuous flow. 

Requires Less Space
Inline or continuous flow water heaters don't take up nearly as much space in your home or building. Because they take up less space, you can install a unit that's smaller in your sink cabinets. If you're pinched for space, this is great because it gives you more options on where to put it. 
Energy Efficiency
Tankless water heaters heat the water continuously as it flows in, as needed, whereas traditional water heating systems fill a tank and keep that tank heated around the clock so that the water is hot when you need it. This wastes energy. An on-demand water heater can save you up to 34 percent on energy.

Extended Lifespan
Tankless water heaters last, on average 5 to 10 years longer than tank water heaters. With expert maintenance on a regular basis, tankless water heaters can offer up to 20 years of useful service. 

Endless Hot Water
Homeowners with water heater tanks lose hot water because their entire supply is stored in the tank. However, the heating elements used in tankless hot water heaters only heat the water you need when you need it. This offers you continuous hot water.

Less Maintenance Needed
Hot water tanks require annual maintenance. In some areas, in fact, they need to be serviced every six months. Nevertheless, tankless water heaters require very little upkeep from an expert plumber. Depending on your water's quality, on-demand water heaters can sustain full function for up to 5 years without maintenance.

Cleaner Use
Tankless water heaters are shown to be very clean. Although water heating systems that use tanks are prone to rust accumulation inside the tank, tankless water heaters bypass that problem altogether.
Choose Beavercreek Plumbing & Drain for Tankless Water Heater Repair, Maintenance & Installation in Dayton, OH
The friendly plumbers at Beavercreek Plumbing & Drain are your trusted experts for water heater services, including both residential and commercial heater installation, water heater repair, and water heating system maintenance. We carry trusted names such as Bradford White and Navien! We proudly install these tankless systems across the Greater Dayton, OH area, including Beavercreek, Xenia, Circleville, Yellow Springs, Mason, Troy, and many more.
We offer fast and affordable installation on all water systems with free estimates for those looking to have a water heater installed in their home or business. If you're interested, we can send a professional adviser to your home or facility and provide you with a free estimate and a free consultation.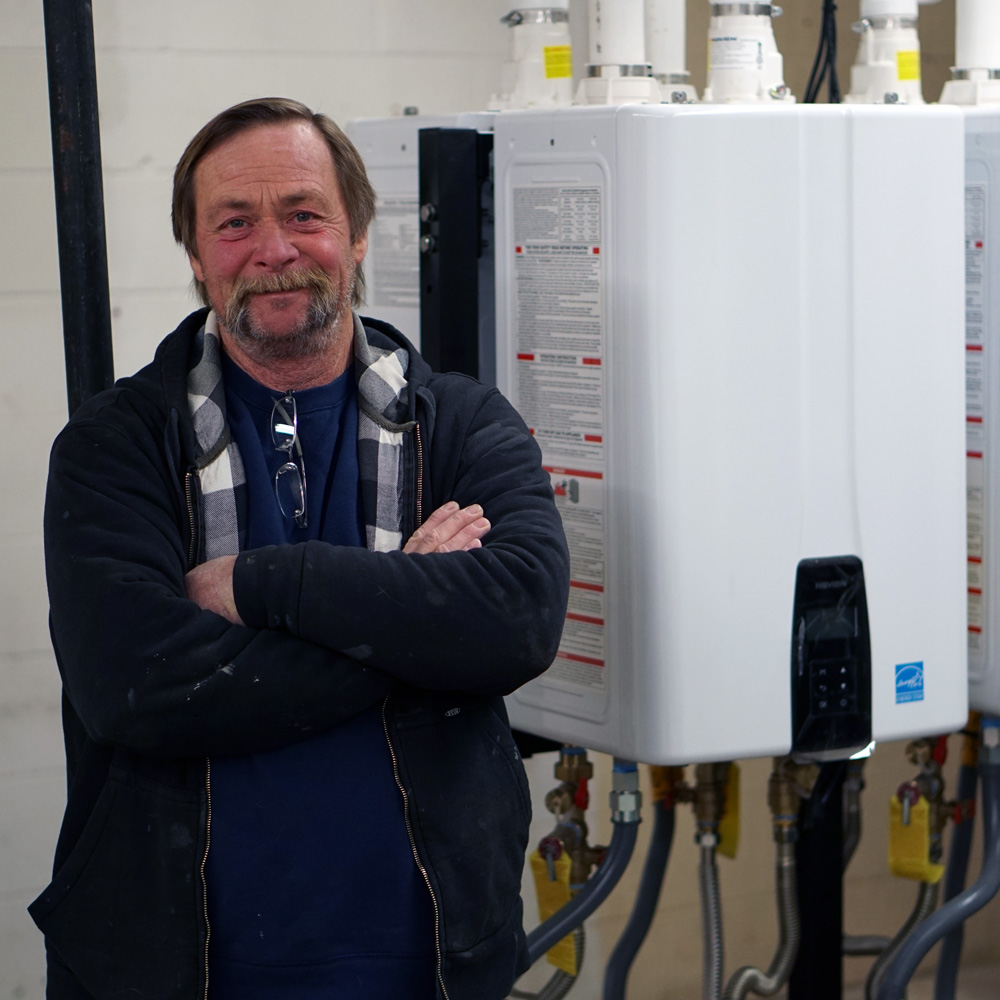 Frequently Asked Tankless Water Heater Questions
At Beavercreek Plumbing & Drain, we're dedicated to finding a solution for our customers so they can live in comfort. If you have any questions, give us a call at (937) 404-6575.
What size water heater do I need?
Traditional water heaters have long been considered the better choice for large homes. However, not all tank water heaters come in the same shape and size. If you have a large family – say four or more – you will want to install a water heater with a tank that can hold between 50 and 80 gallons of water at a time. On the other hand, if you live in a small home with only one other person, you will probably be better suited to a unit that holds 23-36 gallons. If you're looking to install a tankless water heater, conversely, the size of the unit is less important than the system's flow rate (another advantage of tankless water heaters is that they are always fairly small, and therefore relatively easy to access.) A tankless heater's flow rate is measured in gallons per minute or GPM. The bigger your home is, the higher GPM your tankless system will need to have.
How long should a water heater last?
In a perfect world, our residential water heaters would last a lifetime; however, that isn't the case in the real world. On average, a typical water heater should last anywhere from 6 to 13 years. Keep in mind that the longevity of your water heater depends on the care and maintenance performed. Our experts suggest having a scheduled annual draining and flushing.
Why don't I have hot water?
Before troubleshooting a gas water heater, check if the gas is adequately supplied to your house and your water heater; there might be obstructions, shortage, or the main gas valve is closed. If hot water suddenly becomes cold, the water usage might have exceeded the tank capacity. If that is the case, wait for the water heater to recover. Call us right away!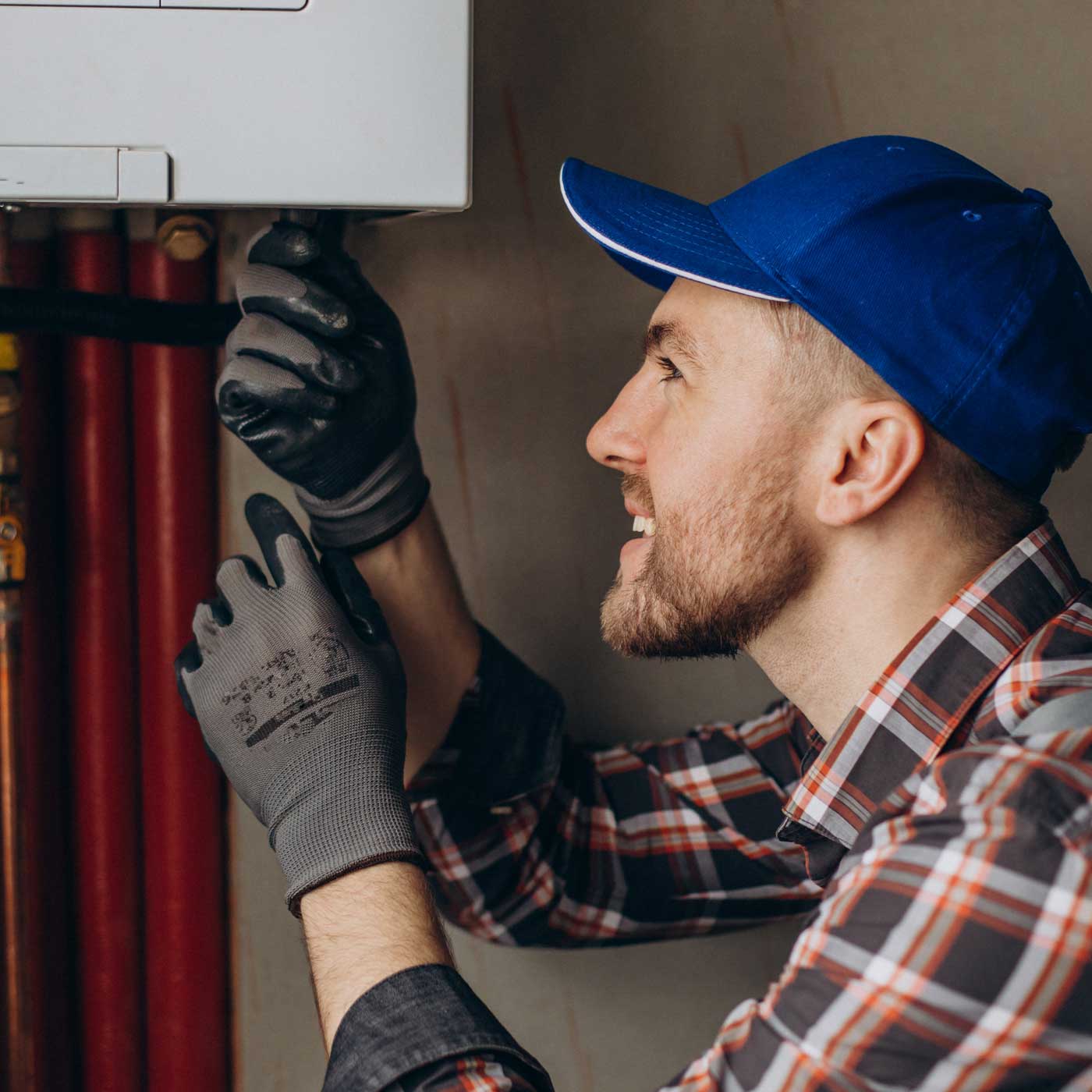 Get a Free Plumbing Estimate in Dayton, OH!
Whether your drain is clogged, you have a leak, or simply need help with your sump pump or septic system, it's important to hire an experienced plumber that can do the job efficiently. As a local, family-owned and operated plumbing company, your friends at Beavercreek Plumbing & Drain are trained extensively to handle all types of plumbing emergencies and plumbing work. Our plumbers are background checked and drug tested. We send out only the best. Each and every plumber on our staff is licensed, bonded, and fully insured. This allows us to guarantee quality work and offer the highest quality plumbing products at the most competitive prices.